>> Wednesday, September 26, 2007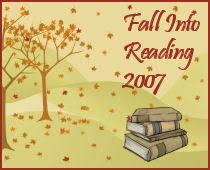 Just the other day Dh and I were saying to one another that we needed to get some new books. Fall is here and the cooler weather just makes me want to curl up with a blanket, a book and a hot cup of cinnamon apple tea. Well what better way to make sure I do that often than to join in Katrina's Fall Reading Challenge.
Here is my list of books that I hope to read this Fall:
3)
Middlesex: A Novel
- This is a BIG book. I need some big books because I tend to be a very fast reader. Also has great reviews - so we shall see...
Whewww I think that's plenty to keep me busy on during my quiet times. Who knows may even throw in some surprise reads if I finish this list. :)