>> Friday, September 28, 2007
Orginally I had planned to blog about a craft I have been working on. Went to take pictures of it and surprise the batteries in my camera are dead. Going to try to replace those over the weekend and see if I can get that craft posted by Monday.
On with plan B...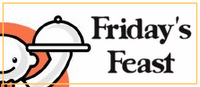 Appetizer
How are you today?
I'm Grrrreat! The morning sickenss is alot better. I woke up with a headache but that disappeared rather quickly. :) And it's Friday!! WoooHooo!

Soup
Name 3 television shows you watch on a regular basis.

Heroes, CSI (the orginal) and Survivor.

Salad
What's the scariest weather situation you've experienced?

Hmmmm, that's a tough one. There was one summer storm I remember when I was really little. We lived in Michigan and had recently moved into our new home. I remember that my mom was at the dining room table sewing when the sky turned really black. She had my brother and I go to the basement and play while she stayed upstairs sewing. I just remember thinking what if a tornado comes and she is still up there sewing. Everything turned out fine though. :)

Main Course
If you could wake up tomorrow morning in another country, where would you want to be?

Switzerland - if only I could drag my hunny with me!

Dessert
What do you usually wear to sleep?
Well, this time of year most nights it's a pair of my fleece jammies. I'm a bad one for taking a shower after I clean the house and just putting on a clean pair. Only getting dressed to real clothes if I MUST go out. I know..sad sad sad.